Improving Students' Analytical Writing 2023 Workshop Series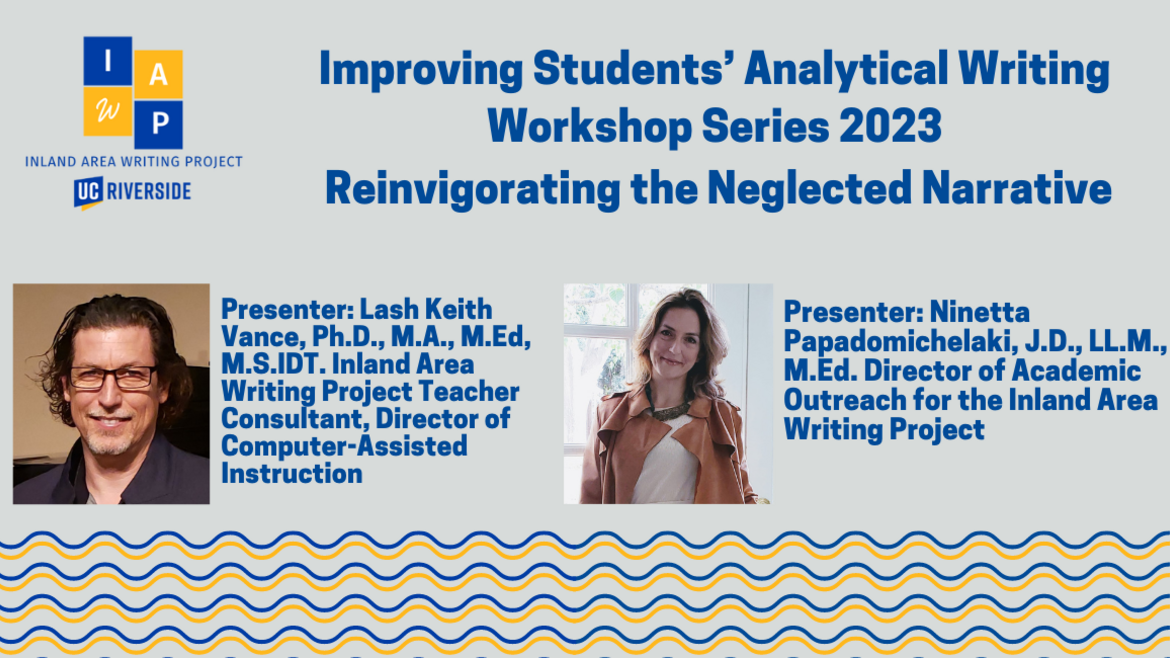 -
Online webinar via ZOOM.
Reinvigorating the Neglected Narrative
Considering the emphasis on expository and argumentative writing in secondary and post-secondary courses, narrative, memoir, and biography are taught as an afterthought or not at all. Furthermore, as a genre narrative is often viewed as superfluous and not what students need for real life or career and college preparedness. This could not be further from the truth, for narrative has practical applicability across multiple other genres and disciplines. More importantly, if we, as educators, are truly intent on fostering social justice and equity in our classrooms, institutions, and beyond, supporting students in discovering and telling their own stories is of paramount importance—and should not be neglected.
In this four-part workshop participants will: 
investigate the multiple roles that narrative serves across genres;
re-configure plotlines ranging from chronological to dynamic and non-linear; 
develop strategies to "show" character and action rather than "tell" about them; 
create authentic dialogue that explicates and expands on the narrative.
Join us for a journey into narrative. Though each workshop can stand on its own, each session informs the overall theme: Reinvigorating the Neglected Narrative. 
 

Workshop Schedule

| | |
| --- | --- |
| Monday, January 23, 2023, 4:30 PM-6:00 PM | Across Genres: Reimagining Your Stories in Expository, Argument, and Other Types of Writing |
| Postponed - Future date TBD | The What and the When: Developing Dynamic Plotlines |
| Postponed - Future date TBD | From Narration to Reflection: Using "Show" Techniques for Personal Journeys; |
| Postponed - Future date TBD | Let's Get Talking: Dynamic Dialogue that Supports Narrative Development |
Presenters: Ninetta Papadomichelaki, J.D., LL.M., M.Ed. & Lash Keith Vance, Ph.D., M.A., M.Ed, M.S.IDT.
---
Cost: Free
Registration Required
Yes